Liquid Flow Measurement Basics
Background: Global Demand for Flow Meter Technology
The global flow meter market size was valued at $7.3 billion in 2018, and is projected to reach $11.9 billion by 2026, growing at a CAGR of 6.3% from 2019 to 2026 (www.businesswire.com/news).
Some of the major market players operating and profiled in this sector are Honeywell International Inc., Siemens AG, Emerson Electric Company, ABB Ltd, Schneider Electric SE, Yokogawa Electric Corporation (www.businesswire.com/news).
Business Significance of Liquid Flow Measurement
Understanding liquid flow measurement and its underlying technologies enables us to appropriately select the right meter that will financially and operationally benefit your manufacturing facility, plant, or building.
Several different types of fluid flow measurement technologies exist, most notably (but not limited to):
Magnetic
Coriolis
Ultrasonic (Doppler)
Differential Pressure
Positive Displacement
Turbine
Vortex shedding
Thermal
Important considerations when selecting flow metering devices include:
Accuracy
Cost
Physical constraints
Flow rate range
Flow profile
Fluid characteristics including temperature and pressure
Head loss across meter
Operating requirements
Maintenance
Life requirement based on application or business need
For our clients, the case for ultrasonic technology is that it has major benefits.
Like its name suggests, an ultrasonic flow meter transmits ultrasonic sound waves (sound humans cannot hear) through a liquid in a pipe using transducers (Figure 1 below). The meter measures the time (called transit time) to and from the transducers, the diameter of the pipe, and, along with other input parameters to compute a flow measurement.
Figure 1
Significant benefits of ultrasonic liquid flow measurement include:
Non-intrusive
Quick to install permanently or temporarily
Requires no production downtime
Zero head loss across the meter as the meter has no probe in the fluid
Accurate to +/- 1% of reading
How can understanding fluid flow impact a manufacturing facility? 
First, we simply ask do fluid systems like chilled water, hot water or process water systems exist in your building or process?  If so, has the system or systems been balanced according to the engineered design?  Unfortunately, the answer most often is no.
I contend an unbalanced fluid system has the "robbing Peter to pay Paul" syndrome.  The consequence can negatively impact operations and bottom line costs.  I've listed 3 typical negative results of this "syndrome."
Systems or equipment starved for water (those providing less than design flow) cannot extract or inject heat at the design rates and, consequently, the system may not perform as intended.
Systems providing excess flow also operate less efficiently.  Equipment is designed to operate with fluid at certain rates and exceeding those rates may also cause heat transfer rates to reduce when the fluid is too turbulent.
Simultaneous heating and cooling easily occurs either directly or indirectly to mask the real issue and cost additional in utility expenses.   Under heating or under cooling often happens when systems don't operate at design and the net difference needs to be made up somewhere, usually with supplemental equipment like unit heaters, portable coolers, etc.
Let's look at a couple typical fluid system comments from building engineers, facility managers, maintenance managers, etc.
Common Myths Debunked:
Myth: More water is better.  Always.
Fact: The right flow rate is just as effective or more effective than excess water.  Excess water just costs energy to pump and causes other areas of systems to operate less efficiently or effectively or both.
Myth: The water system will balance itself out automatically.
Fact: Most water systems in the market will not balance themselves out automatically.
1. The system MAY balance itself out if the system is completely pressure independent.
2. A pressure dependent system MAY balance itself out if it was balanced and commissioned properly on install…which is a BIG IF.
3. The system MAY balance if all the valves are operating AND CONTROLLING properly.
Let's just say very few fluid systems are balanced properly and many cost owners and managers thousands of dollars a year in some combination of waste, productivity, throughput, wear and tear of equipment, etc.
To find out more about how you can schedule an ultrasonic flow test at your facility, please contact us for details.  We perform flow tests or rent out meters by the week for longer tests.  More often than not, the project has a 100% ROI or better.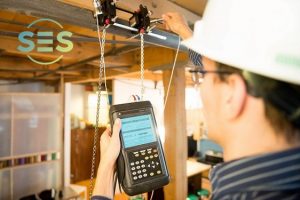 Matthew Strebe is a licensed mechanical engineer in Minnesota and holds certifications in building commissioning, and building energy assessments through ASHRAE.
Enter info below for a chance to get our free flow meter measurement service: